Kurse & Reitstunden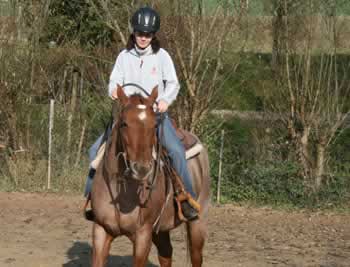 Our training program includes basic training for horse and rider as well as an advanced training up to tournament level. Trained and ridden will be following the principles of the western riding style.

Beginner Courses
The entry-level courses are principally aimed to the learning of basic knowledge and skills, with a special emphasis on the "right saddling" and "correct sitting".
Development courses
The development courses are mainly focus on a deepening of the knowledge and skills learned in the beginner courses. In particular, the focus is on the development and refinement of the riding style.
Ground work courses
Our ground-work courses complete the training program. As the name already suggests, this course will concentrate on "exercises from the floor". But the course will also include important issues such as the "dominate without punishment" and "Natural handling of the horse" and "communication between rider and horse."
Lessons
To complement our program, we also offer riding lessons. Who doesn't have a horse or don't want to ride his own horse will get a school horse for free for the time of the lesson.
Group and individual courses
We offer both group and individual courses. The individual courses will concentrate on issues specifically addressed to the individual situation.
| | | |
| --- | --- | --- |
| Riding on the lunge (round pen) | 10,- Euro per Person | 20 min |
| Riding lessons in a group (max 3 persons) | 15.- Euro per Person | 45 min |
| Individual riding lessons (single person) | 25.- Euro per Person | 45 min |
| Riding on the ground in the group (max 3 persons) | 25,- Euro per Person | 45 min |
| Individual riding in the terrain (single person) | 30,- Euro per Person | 45 min |
| Weekend course on 2 consecutive days each 5h (Group) | 100,- Euro pro Person | 5 hours |
| Weekend course on 2 consecutive days each 5h (Single person) | 250,- Euro pro Person | 5 hours |
* prices including the german Tax